Hotline / Order
Tel.: +49 (0)3585 / 4702-22
Fax: +49 (0)3585 / 4702-13

What are microcontrollers?
In contrast to PC processors a microcontroller is a processor that integrates memories, important components as timers and digital and analogue I/O ports on an only chip. So that a microcontroller solution often needs only a few external components.
The processor of a PC does not have own I/O components but a connection to the external system bus that is connected with I/O devices like plug-in cards for example.
The tasks of more and more devices in our everyday life are realized with microcontrollers. And so it's possible to decrease dramatically above all the production costs of hardware.


What are microcontrollers used for?
Some examples:

robots, CD-, MP3- and DVD-Players,
thermostats, fill level controllers, motor control units,
signal decoders for satellite receiving, remote controls,
alarm systems, timers, battery chargers,
washing machines, dishwashers, televisions, radios, (alarm)clocks,
measurement collection (measurement value logging), e. g. rev counter in a car,
intelligent devices of automation technology, intelligent sensors, for example for airbags in a car,
mobile phones, all kinds of home electronic, devices for medical technology, toys, ...

Requirements and possibilities of microcontroller solutions:

programmable (update, optimization, maintenance)
flexible interfaces (varied, integrated, standardized)
self diagnoses, error correction, debug interface
real time ability (quick reactions)
timer, interrupt ability
determined (determinable and calculable manner)
low costs, lower consumption of capacity
The application area of microcontrollers are nearly exhaustloss. In all areas of our lives we can find "hidden" mikrocontrollers.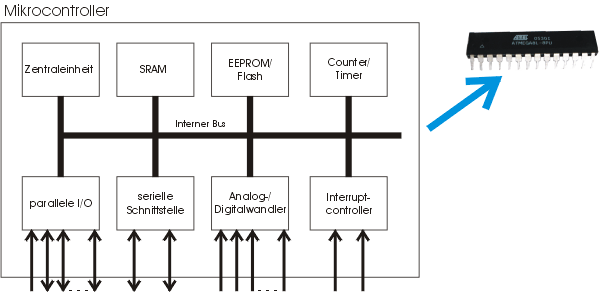 Business partner wanted!

To expand our sales area we are looking for partners to represent our products and interests of the SiSy Solutions GmbH.
myAVR Board MK3
Develop games with